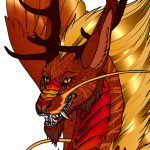 "Your mediocrity is no concern of mine," Mijhael said dryly. "It is my responsibility to tell you what to expect. If you don't want to be in the cells, you will be out collecting other drakiri to bring them back. If it proves that your pelt is worth more than your time, you will be brought back here and harvested on a stricter schedule. You have no scales, your teeth are not terribly impressive, neither are your horns. They may take them once, but no more than that."

He straightened up and snapped his fingers. Two primals--both black as pitch--stepped out of the shadows and approached to stand on either side of Kedryzal, their massive shoulders practically touching from either side of him as humans came maneuvered between their legs to unchain Kedryzal's legs.

"They will escort you to the subfloor where harvesting takes place," Mijhael said. "If you're as cooperative with the folks down there as you were with me, you shouldn't expect them to hurt you."

The Risker turned away from Kedryzal then and went to stand beside Icarus, though he did not touch the kainu just yet. He was certain the smaller drakiri would collapse in fear if he tried, and that would only make his life more difficult.

The primals escorted Kedryzal across the warehouse to one of the double doors that led to a staircase beyond. They had to wait for the doors to be opened, walking together down the stairs with one primal in front of Kedryzal and the other behind, keeping a steady pace without rushing. They didn't say a word, they didn't have to. They were efficient enough without having to speak to one another and fell into step side by side as they reached the landing for the subfloor.

When the doors opened, they were greeted by a wide hallway--nearly an open space unto itself--with enough room for several drakiri to move about freely. On either side, there were concrete rooms with arches over the entrances, no doors or curtains, and in each there were drakiri of every shape and size. A golden kelpie with vivid purple scales was stretched out on a portable table with a team of humans in pale blue gowns hovering over her. Two of them lifted a scale away from her body and set it on a tray while another human began using a small blade to cut away under the scales on her shoulders. The kelpie's eyes were halfway open, but glazed over and unfocused--she didn't so much as flinch.

On the opposite side of the hallway, a black komakha with an impressive, vibrant blue swirled pattern on his scales lashed out with her back legs, upending the table that had been set up in the stall and sending surgical tools clattering to the floor and spilling out into the hallway. The primals led Kedryzal around the mess, heads down as they continued on without so much as acknowledgeing the komakha as she was dragged to the ground and pinned by truly massive mutt.

The primals stopped only once they reached an empty stall to the right, standing in stoic silence as they waited for the drakiri to step forward into the empty concrete space.